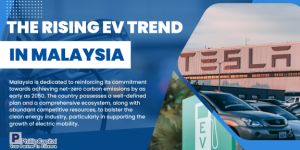 Malaysia is dedicated to reinforcing its commitment towards achieving net-zero carbon emissions by as early as 2050. The country possesses a well-defined plan and a comprehensive ecosystem, along with abundant competitive resources, to bolster the clean energy industry, particularly in supporting the growth of electric mobility. Tesla has recently made its official entry into the Malaysian market, spearheaded by the introduction of the Tesla Model Y. The starting price for the Model Y (Standard Range RWD) in Malaysia is RM199,000. Of course, Tesla's presence should not significantly threaten the local automotive sector in the near term, at least, as over 70% of vehicles sold in Malaysia fall within the price range of less than RM100,000, with nearly 40% of them priced below RM50,000[1].
Prior to Tesla's introduction to the Malaysian market, several other electric vehicle (EV) brands had already established a presence. As stated by Datuk Zailani Hashim from the Road Transport Department Malaysia (JPJ), Malaysia had already recorded more than 10,000 registered EVs by December 2022. These EVs encompassed a wide range of brands, such as BMW, MINI, Nissan, Renault, ORA, Hyundai, Kia, Mercedes-Benz, Volkswagen, Volvo, BYD, Audi, Lotus, and many others. The Neta V is currently the cheapest EV on sale in Malaysia, retailing at RM99,800. Additionally, following the launch of the BYD Atto 3 in December 2022, priced at RM149,800, BYD Dolphin is set to arrive in Malaysia in July. The starting price for the Dolphin model will be as low as RM99,900.
Various incentives to drive EV adoption
By 2030, the national goal is to have electric vehicles (EV) account for 15% of the total industry volume (TIV). To encourage the adoption of low carbon mobility and support the development of the EV industry in Malaysia, the government is offering the following incentives:
Complete exemption from import and excise duties for newly registered Completely Built-Up (CBU) electric vehicles until December 31, 2025.
100% road tax exemption for electric vehicle owners until December 31, 2025.
Individual income tax relief of up to RM2,500 for electric vehicle owners on expenses related to EV charging facilities' installation, rental, purchase (including hire-purchase), or subscription fees, applicable for the assessment year 2023.
Moreover, companies that lease non-commercial EVs are eligible to claim tax deduction on the rental amount of up to RM300,000 from the year of assessment 2023 until 2025.
Fitch Solutions predicts that Malaysia's EV sales will undergo a substantial growth of 45.6% in 2023, reaching around 4,449 units, despite starting from a low base. This growth is primarily a result of the introduction of incentives aimed at promoting the adoption of EVs. During this period, the availability of more battery electric vehicle (BEV) models is expected to lead to a decline in market share for plug-in hybrid electric vehicles (PHEVs) (refer to Figure 1). Looking ahead, Fitch Solutions anticipates that the overall EV sales (relative to total vehicle sales), will surpass the 1% milestone by 2024. This increase will be driven by the strong performance of both PHEVs and BEVs, further accelerating the adoption of EVs throughout the country.
Figure 1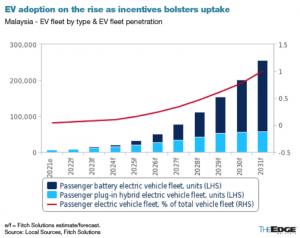 Source: The Edge, Fitch Solutions
Challenges ahead
Notwithstanding the introduction of various incentives, affordability remains a concern as EVs typically come with a price tag exceeding RM100,000. Apart from that, the role of EV charging infrastructure is crucial as the current infra might not be ready to serve a sudden increase of EVs on the road. According to MITI, Malaysia currently has 1,063 EV charging stations, but the target is to establish 10,000 charging stations by 2025. Out of these, 1,000 will be DC (fast) chargers, and the remaining 9,000 will be (regular) AC chargers.
Identify investment opportunities – Phillip Managed Account for Retirement (PMART) and Phillip Managed Account (PMA) ESG
The EV supply chain encompasses a wide range of companies involved in different stages of production and distribution, each making their unique contribution towards advancing ESG principles.
Phillip Capital Malaysia offers discretionary portfolio that invests in stocks with high ESG ratings from the F4GBM and F4GBMS Indices, namely PMART and PMA ESG. There are both conventional and Shariah options available. PMART and PMA ESG is suitable for investors who want to optimise the risk-adjusted return by constructing a diverse sustainable portfolio of ESG companies.
The following are the companies in which both Conventional and Shariah ESG mandates invest, respectively. We like these companies because they have received high ESG ratings, which we believe can contribute to their long-term sustainability, responsibility, and profitability.
Conventional ESG Portfolio
| | | |
| --- | --- | --- |
| No | Stock | F4GBM ESG Rating [2] |
| 1 | AEON CO. (M) BHD | 3-Star |
| 2 | BERMAZ AUTO BHD | 4-Star |
| 3 | CTOS DIGITAL BERHAD | 4-Star |
| 4 | INARI AMERTRON BHD | 4-Star |
| 5 | KELINGTON GROUP BERHAD | 3-Star |
| 6 | MATRIX CONCEPTS HOLDINGS BHD | 3-Star |
| 7 | MALAYAN BANKING BHD | 4-Star |
| 8 | PUBLIC BANK BHD | 4-Star |
| 9 | SIME DARBY BHD | 3-Star |
| 10 | TELEKOM MALAYSIA BHD | 4-Star |
| 11 | TENAGA NASIONAL BHD | 3-Star |
| 12 | YINSON HOLDINGS BHD | 4-Star |
Shariah ESG Portfolio
| | | |
| --- | --- | --- |
| No | Stock | F4GBMS ESG Rating [2] |
| 1 | AEON CO. (M) BHD | 3-Star |
| 2 | BERMAZ AUTO BHD | 4-Star |
| 3 | CTOS DIGITAL BERHAD | 4-Star |
| 4 | INARI AMERTRON BHD | 4-Star |
| 5 | MATRIX CONCEPTS HOLDINGS BHD | 3-Star |
| 6 | SCIENTEX BERHAD | 3-Star |
| 7 | SIME DARBY BHD | 3-Star |
| 8 | TELEKOM MALAYSIA BHD | 4-Star |
| 9 | TENAGA NASIONAL BHD | 3-Star |
| 10 | VITROX CORPORATION BHD | 4-Star |
Several companies included in our ESG mandates are actively contributing to the development and growth of the EV ecosystem in Malaysia. Local auto players such as Bermaz Auto Bhd plan to launch several EV models in Malaysia include the Kia EV6, Kia e-Niro, Kia Sportage Plug-in Hybrid Vehicle (PHEV), Peugeot 3008 EV, Peugeot 508 Hybrid, and the Mazda MX-30. Sime Darby Motors, the automotive arm of Sime Darby Berhad, had inked a distribution agreement with BYD (the world's leading EV manufacturer) to distribute ATTO 3 and the new e6 models.
Separately, local utilities player Tenaga Nasional Bhd had entered into a strategic partnership with the Malaysia Automotive, Robotics, and IOT Institute (MARii) in developing EV ecosystem, in line with the country's energy transition goal. Tenaga Nasional had also committed to set up EV charging stations along North-South Expressway and invest RM90m in three years. Energy player Yinson Holdings Bhd is also actively driving the EV charging infrastructure in the country through its wholly-owned subsidiary Yinson Green Technologies (M) Sdn Bhd.
The long-term outlook for supplies, inspection equipment, and solutions related to semiconductor components is expected to remain strong and sustainable. This can be attributed to various factors such as the rise of autonomous driving, advancements in high-performance computing, the growth of e-commerce, the revolution of 5G technology, and not to forget the increasing demand for EVs. This will benefit local OSAT (outsourced semiconductor assembly and test) names like Inari Amertron Bhd and ATE (automated test equipment) names like Vitrox Corporation Bhd.
Please click on the link to learn more or email us at cse.my@phillipcapital.com.my if you require any further information.
Note:
[1] Kenanga Research, 21 July 2023
[2] ESG Ratings of Public Listed Companies (PLCs) assessed by FTSE Russell in accordance with FTSE Russell ESG Ratings Methodology
| | |
| --- | --- |
| Grade | Description |
| 4-star | Top 25% by ESG Ratings amongst PLCs in FBM EMAS that have been assessed by FTSE Russell |
| 3-star | Top 26-50% by ESG Ratings amongst PLCs in FBM EMAS that have been assessed by FTSE Russell |
| 2-star | Top 51%-75% by ESG Ratings amongst PLCs in FBM EMAS that have been assessed by FTSE Russell |
| 1-star | Bottom 25% by ESG Ratings amongst PLCs in FBM EMAS that have been assessed by FTSE Russell |
Disclaimer:
The information contained herein does not constitute an offer, invitation or solicitation to invest in Phillip Capital Management Sdn Bhd ("PCM"). This article has been reviewed and endorsed by the Executive Director (ED) of PCM. This article has not been reviewed by The Securities Commission Malaysia (SC). No part of this document may be circulated or reproduced without prior permission of PCM. This is not a collective investment scheme / unit trust fund. Any investment product or service offered by PCM is not obligations of, deposits in or guaranteed by PCM. Past performance is not necessarily indicative of future returns. Investments are subject to investment risks, including the possible loss of the principal amount invested. Investors should note that the value of the investment may rise as well as decline. If investors are in any doubt about any feature or nature of the investment, they should consult PCM to obtain further information including on the fees and charges involved before investing or seek other professional advice for their specific investment needs or financial situations. Whilst we have taken all reasonable care to ensure that the information contained in this publication is accurate, it does not guarantee the accuracy or completeness of this publication. Any information, opinion and views contained herein are subject to change without notice. We have not given any consideration to and have not made any investigation on your investment objectives, financial situation or your particular needs. Accordingly, no warranty whatsoever is given and no liability whatsoever is accepted for any loss arising whether directly or indirectly as a result of any persons acting on such information and advice.