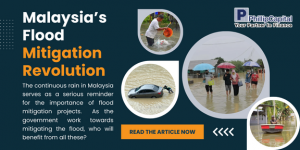 The continuous rain in Malaysia has become quite a regular affair lately. Just half an hour of rain and we are already talking about potential flash floods. Malaysia's susceptibility to heavy rains, exacerbated by urbanisation and deforestation, has strained existing drainage systems, leading to rapid water accumulation and subsequent flooding. It is a serious reminder for the importance of flood mitigation projects.
In fact, in the 12th Malaysia Plan, the federal government allocated RM22b for flood mitigation projects. Specifically, a total of 33 high-priority flood mitigation projects, costing RM11.8b, will begin implementation soon, with RM5.1b to be awarded in 2023 from Oct 2023 onwards while remaining RM6.1b to be awarded starting early 2024. Separately, RM300 million will be allocated to National Disaster Management Agency (NADMA) for flood preparedness. Several regions earmarked for these initiatives include the Sg. Pahang basin; Sg. Langat Phase 2 (Selangor); Sg. Jelai (Kuala Pilah, Negeri Sembilan); Sg. Likas (Kota Kinabalu, Sabah); Kuching Phase 2 (Sarawak); Baling Phase 2 (Kedah); and Sg. Kelantan Integrated River Basin Phase 2 (Kelantan).
With the retender of flood mitigation projects, we gather HSS, GAMUDA and MRCB are set to benefit with their relevant expertise and expressed interest, stand as potential contenders for these projects. HSS had submitted engineering design bids for 3 smaller projects (<RM200m each) and will be bidding for 4 other larger projects (>RM500m). Gamuda would be in a strong position to capitalise on its extensive water-infrastructure expertise to win more jobs. Gamuda has mooted the two-phased SMART 2 concept to deliver flood alleviation solutions in a holistic manner via the PPP 3.0 mechanism, targeting five floodprone areas in the Klang Valley (see Figure 1). MRCB has an established outfit that specializes in the rehabilitation and conservation of beaches and rivers and is currently undertaking the RM380m Muara Sg. Pahang Phase 3 flood mitigation project.
Figure 1: SMART 2 will absorb rainwater and surface runoff through interception and infiltration, storing water underground for regulated release to the sea later.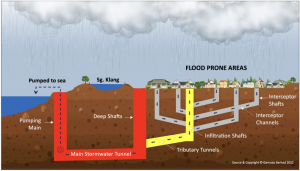 Source: Gamuda
And fresh from the oven, Malaysia's Prime Minister, Datuk Seri Anwar Ibrahim, on 2 Nov 2023, has announced plans to seek expertise from the Netherlands to enhance the country's flood mitigation systems and reduce its significant flood management expenditures, which currently amount to billions of Ringgits annually. Dutch Prime Minister Mark Rutte suggested that with expertise and new technology, costs could potentially be reduced. A Department of Statistics Malaysia report revealed flood-related losses of RM622.4 million in 2022, while the sum of losses was even greater in 2021, when RM6.1 billion in losses was recorded, highlighting the pressing need for immediate and effective action.
Identify investment opportunities – Phillip Managed Account for Retirement (PMART) and Phillip Managed Account (PMA) ESG
Phillip Capital Malaysia offers discretionary portfolio that invests in stocks with high ESG ratings from the F4GBM and F4GBMS Indices, namely PMART and PMA ESG. There are both conventional and Shariah options available. PMART and PMA ESG is suitable for investors who want to optimise the risk-adjusted return by constructing a diverse sustainable portfolio of ESG companies.
To explore the companies in which both Conventional and Shariah ESG mandates invest, you can refer to the provided link. We like these companies because they have received high ESG ratings, which we believe can contribute to their long-term sustainability, responsibility, and profitability.
Please click on the link to learn more or email us at cse.my@phillipcapital.com.my if you require any further information.
Disclaimer:
The information contained herein does not constitute an offer, invitation or solicitation to invest in Phillip Capital Management Sdn Bhd ("PCM"). This article has been reviewed and endorsed by the Executive Director (ED) of PCM. This article has not been reviewed by The Securities Commission Malaysia (SC). No part of this document may be circulated or reproduced without prior permission of PCM. This is not a collective investment scheme / unit trust fund. Any investment product or service offered by PCM is not obligations of, deposits in or guaranteed by PCM. Past performance is not necessarily indicative of future returns. Investments are subject to investment risks, including the possible loss of the principal amount invested. Investors should note that the value of the investment may rise as well as decline. If investors are in any doubt about any feature or nature of the investment, they should consult PCM to obtain further information including on the fees and charges involved before investing or seek other professional advice for their specific investment needs or financial situations. Whilst we have taken all reasonable care to ensure that the information contained in this publication is accurate, it does not guarantee the accuracy or completeness of this publication. Any information, opinion and views contained herein are subject to change without notice. We have not given any consideration to and have not made any investigation on your investment objectives, financial situation or your particular needs. Accordingly, no warranty whatsoever is given and no liability whatsoever is accepted for any loss arising whether directly or indirectly as a result of any persons acting on such information and advice.