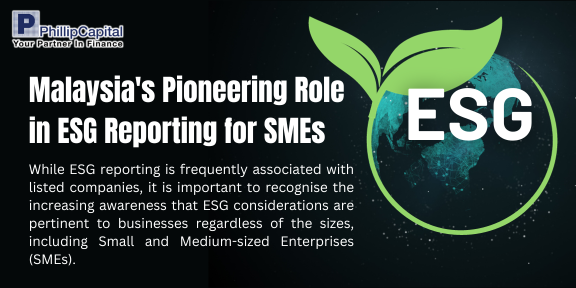 While ESG reporting is frequently associated with listed companies, it is important to recognise the increasing awareness that ESG considerations are pertinent to businesses regardless of the sizes, including Small and Medium-sized Enterprises (SMEs). The Securities Commission (SC) of Malaysia, through its affiliate Capital Markets Malaysia (CMM), has introduced a Simplified ESG Disclosure Guide (SEDG) aimed at assisting SMEs in global supply chains with the disclosure of ESG data and information. Malaysia takes pride in being the global pioneer in implementing such a guide.
As stated on the official website of the SEDG, it functions as a set of guidelines aimed at consolidating and simplifying the intricate array of global and local frameworks related to ESG considerations. Its primary purpose is to assist SMEs in meeting disclosure requests from various stakeholders, including customers, investors, banks, and regulators. Comprising 35 priority disclosures, the SEDG is in accordance with both local and global sustainability guidelines. Moreover, it is structured into Basic, Intermediate, and Advanced levels, tailored to address the diverse levels of sustainability maturity exhibited by each SME. There is, however, no mandatory adoption timeline for the disclosures.
Exhibit 1: SEDG Adopter Category and Commitment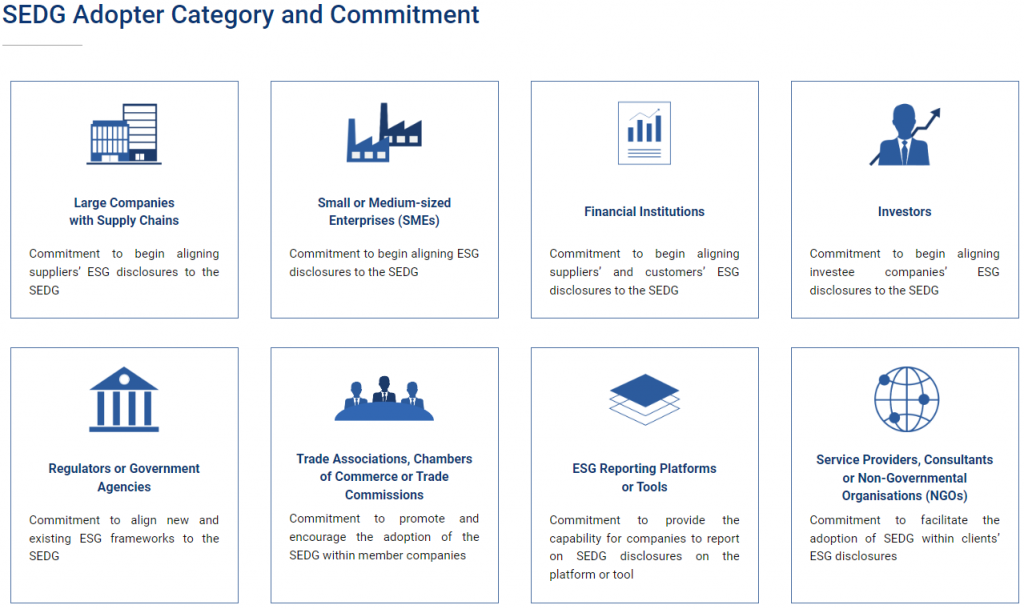 Source: SEDG's official website
The SEDG was crafted by consolidating insights from a variety of sources, specifically adapted for SMEs. It incorporates inspiration from diverse global and local sustainability frameworks, guidance, benchmarks, and evaluations. The Guide thoroughly addresses a range of considerations within the realm of ESG.
Environmental: Emission; Energy; Water; Waste; and Materials
Social: Human Rights and Labour Standards; Employee Management; Diversity, Equity and Inclusion; Occupational Health and Safety; and Community Engagement
Governance: Governance Structure; Policy Commitments; Risk Management And Reporting; Anti-Corruption; and Customer Privacy
Our View
The government maintains its commitment to ESG-focused development programs, recognising them as essential enablers for Malaysia's transition from recovery to long-term reforms. These priorities underscore a strategic focus on sustainable practices and responsible governance in shaping the nation's developmental trajectory. Achieving lasting transformation requires the entire nation, encompassing both the public and private sectors, to unite behind a shared vision of sustainability. This underscores a collective responsibility for all.
Phillip Capital Management Sdn Bhd (PCM)'s role in ESG
In line with the nation's goal towards sustainability, PCM has integrated ESG factors that we attest as material and relevant for a company's financial performance and long-term sustainability into our investment decision-making process. These include but not limited to ESG ratings by established index, environmental considerations (climate change, natural resources preservation, pollution & waste), social considerations (health & safety, community engagement, employee relations) and governance considerations (board independence, transparency & disclosure, shareholder rights).
Separately, PCM offers discretionary portfolio that invests in stocks with high ESG ratings from the F4GBM and F4GBMS Indices, namely PMART and PMA ESG. There are both conventional and Shariah options available. PMART and PMA ESG is suitable for investors who want to optimise the risk-adjusted return by constructing a diverse sustainable portfolio of ESG companies.
To explore the companies in which both Conventional and Shariah ESG mandates invest, you can refer to the provided link. We like these companies because they have received high ESG ratings, which we believe can contribute to their long-term sustainability, responsibility, and profitability.
Please click on the link to learn more or email us at cse.my@phillipcapital.com.my if you require any further information.
Disclaimer:
The information contained herein does not constitute an offer, invitation or solicitation to invest in Phillip Capital Management Sdn Bhd ("PCM"). This article has been reviewed and endorsed by the Executive Director (ED) of PCM. This article has not been reviewed by The Securities Commission Malaysia (SC). No part of this document may be circulated or reproduced without prior permission of PCM. This is not a collective investment scheme / unit trust fund. Any investment product or service offered by PCM is not obligations of, deposits in or guaranteed by PCM. Past performance is not necessarily indicative of future returns. Investments are subject to investment risks, including the possible loss of the principal amount invested. Investors should note that the value of the investment may rise as well as decline. If investors are in any doubt about any feature or nature of the investment, they should consult PCM to obtain further information including on the fees and charges involved before investing or seek other professional advice for their specific investment needs or financial situations. Whilst we have taken all reasonable care to ensure that the information contained in this publication is accurate, it does not guarantee the accuracy or completeness of this publication. Any information, opinion and views contained herein are subject to change without notice. We have not given any consideration to and have not made any investigation on your investment objectives, financial situation or your particular needs. Accordingly, no warranty whatsoever is given and no liability whatsoever is accepted for any loss arising whether directly or indirectly as a result of any persons acting on such information and advice.